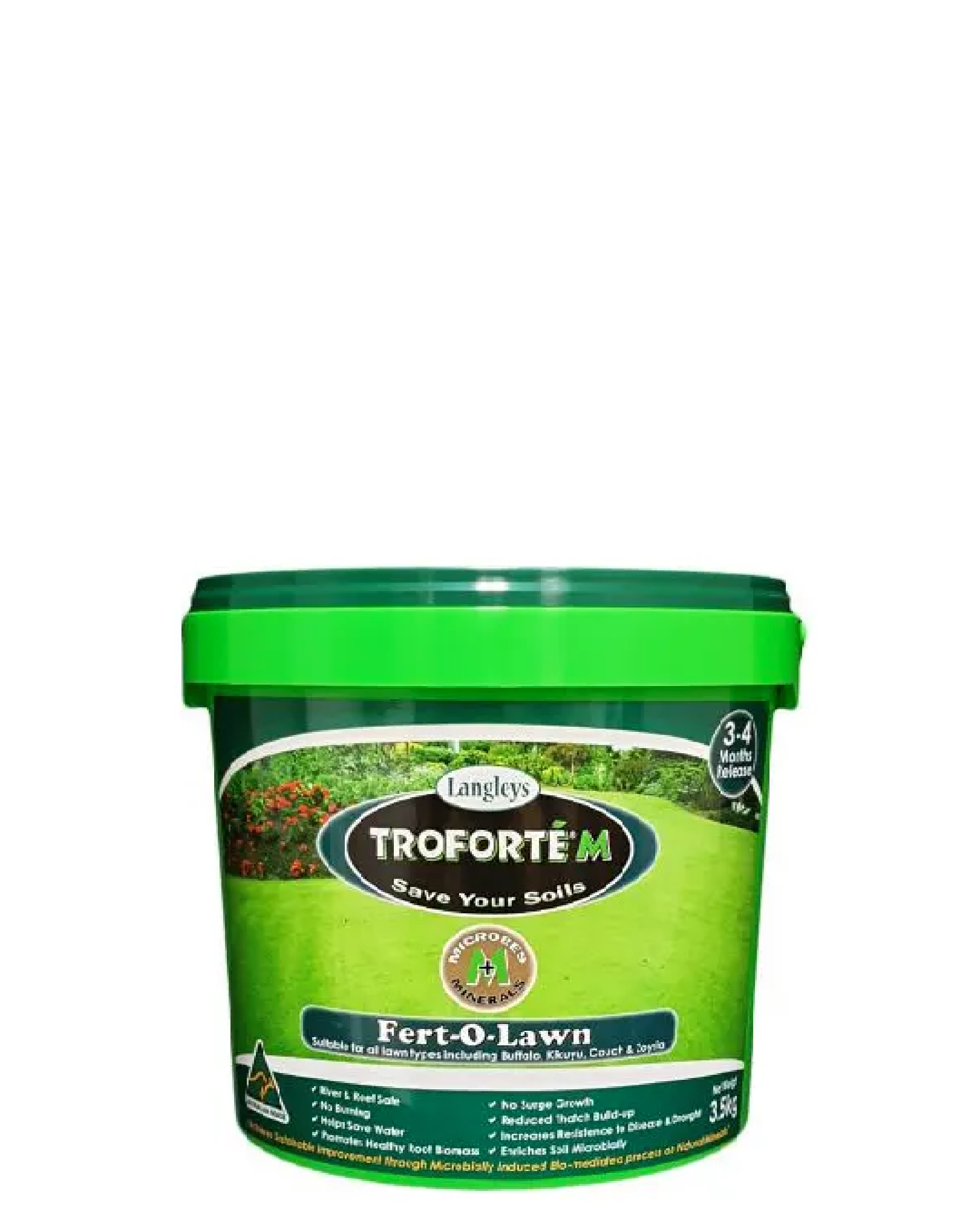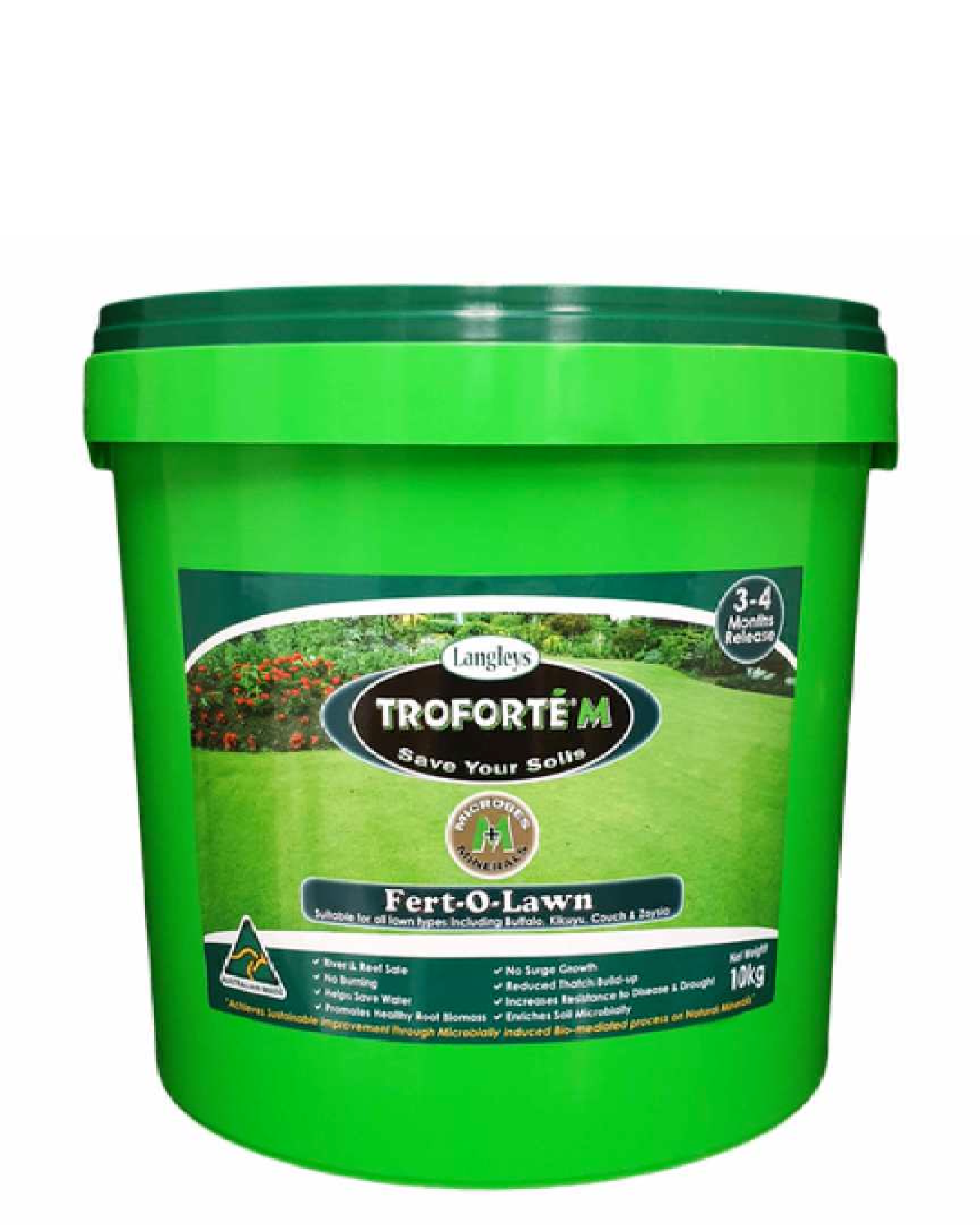 Troforte M Fert-O-Lawn
Sale price

$79.95
Regular price
(/)
Environmental revolution in lawn fertiliser technology! You'll never want to use an ordinary lawn fertiliser again.
Designed specifically for lawns including Buffalo, Zoysia, Couch and Kikuyu
Up to 60 minerals and 24 species of beneficial microbes, bacteria and fungi specifically chosen to enhance lawn growth and a thicker, more luxurious appearance.
Mini-granule size to ensure the fertiliser falls in between the grass blades and on to the soil
Develops the soil and root system to drastically improve drought resistance
After continued use you will notice earthworms returning to your soil creating better drainage and soil aeration
After continued use you will notice a considerable reduction in thatch
No quick fast flush of growth. You will see gentle, sustained and even green growth with Troforte®, over an extended period of time
Beneficial microbial activity and stronger root system means enhanced protection from pests and diseases such as Pythium
For the best results, apply Troforte® Fert-O-Lawn every 3-4 months with the scoop supplied or a lawn spreader
Troforte® Liquid Lawn Food can also be applied every 3 months to boost beneficial microbial populations in your soil.
Used in combination, the liquid and granular products will work in conjunction to create a carbon rich organic food that will help further boost soil microbial populations and help nutrient uptake to be optimised.
Tips for growing the best lawn:
Remove weeds as soon as they appear. Do not wait for them to go to seed and spread.
Avoid short frequent watering. Water deeply to penetrate the soil to about 120-170mm deep to train roots to travel deep to reach water and nutrients.
Most lawns grow best in a pH of between 6 and 7 (neutral or slightly acidic)
Mow grass shorter in the winter and longer in the summer months
Apply Troforte® Fert-O-Lawn at least 24 hours after mowing. Water in thoroughly after application (or apply before rains)
Application:
Laying new turf: 
Sprinkle the instructed dosage of Troforte® in with the turf underlay and composted material (green waste or animal manure), prior to laying the turf.
Once the turf is laid, apply another dosage of Troforte® Fert-O-Lawn as a top-dress on the lawn and water in thoroughly. Ensure the soil remains hydrated while the lawn roots are being established (please note your local water restrictions and special permissions when planting a new lawn)
Planting lawn seed:
Apply Troforte® Fert-O-Lawn at the same time as applying your lawn seed at the instructed dosage and water in well, ensuring that the soils stays moist while establishing your new lawn (please note your local water restrictions and special permissions when planting a new lawn).
Established Lawn Maintenance:
Apply Troforte® Fert-O-Lawn at least 24 hours after mowing. Water in thoroughly after application (or apply before rains)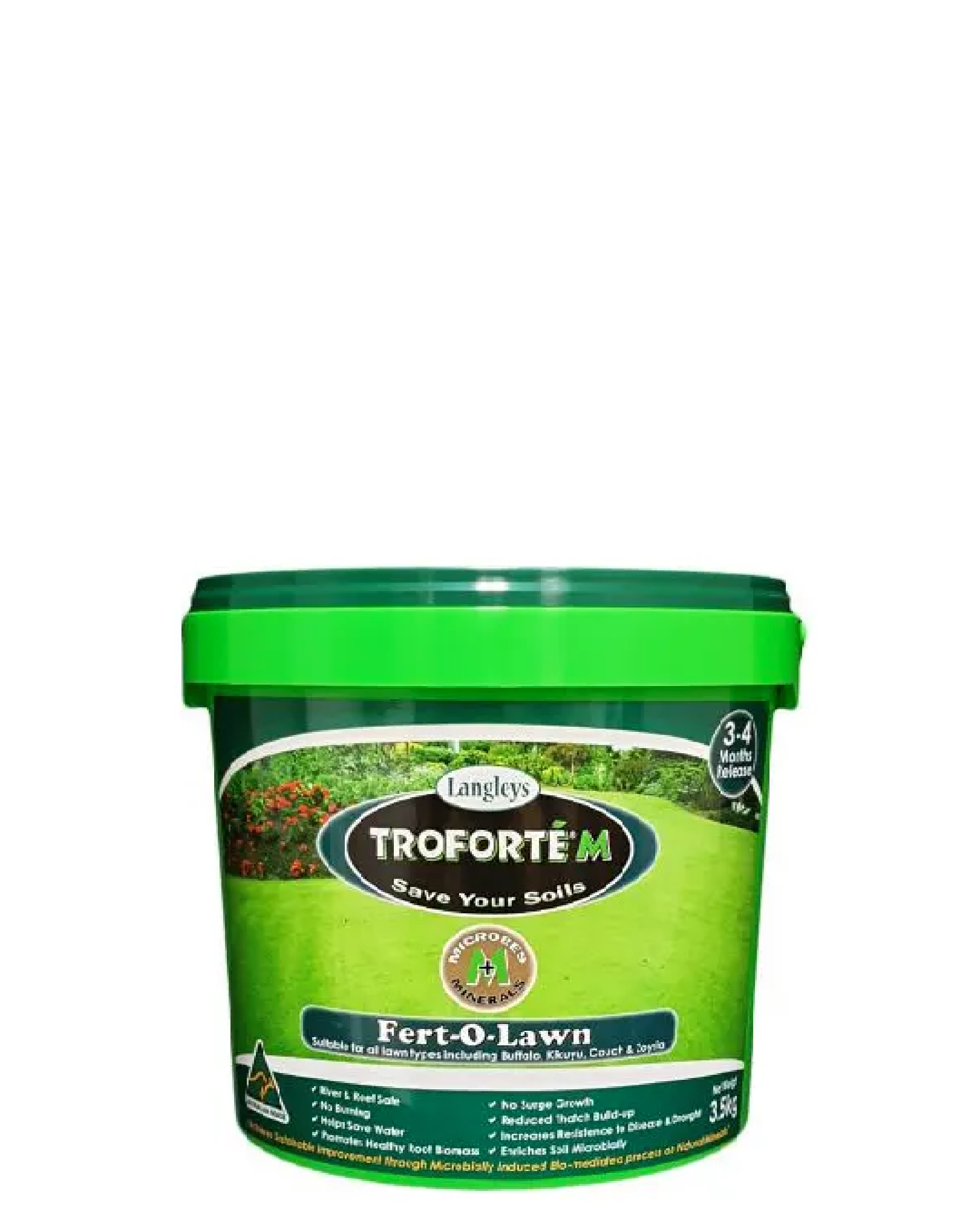 Troforte M Fert-O-Lawn
Sale price

$79.95
Regular price
Choose options